Mrs D Hughes (Enrichment Lead)
Email: [email protected]
Enrichment opportunities form an integral part of the provision that we offer to all our students here at South Wolverhampton and Bilston Academy. In doing so, we allow students to develop both their intra-personal and interpersonal skills , as well as knowledge in areas they have an interest in. Whether it's through competitive clubs, or recreational groups, students will enjoy developing key transferable skills such as teamwork and communication whilst simultaneously having fun.
Our academy C.O.R.E programme offers all students a broad and varied range of opportunities outside of a conventional classroom setting both in terms of visits and experiences, as well as a range of enrichment opportunities and extra-curricular clubs, to ensure that we develop our young people both academically but also as a whole person., something here at SWB academy we fundamentally believe in. In doing this, our offer aims to develop student aspirations and offer them a chance to partake in different experiences that allow them to find and develop their interests.
Please see the calendar below for our Autumn Term One Enrichment Offer.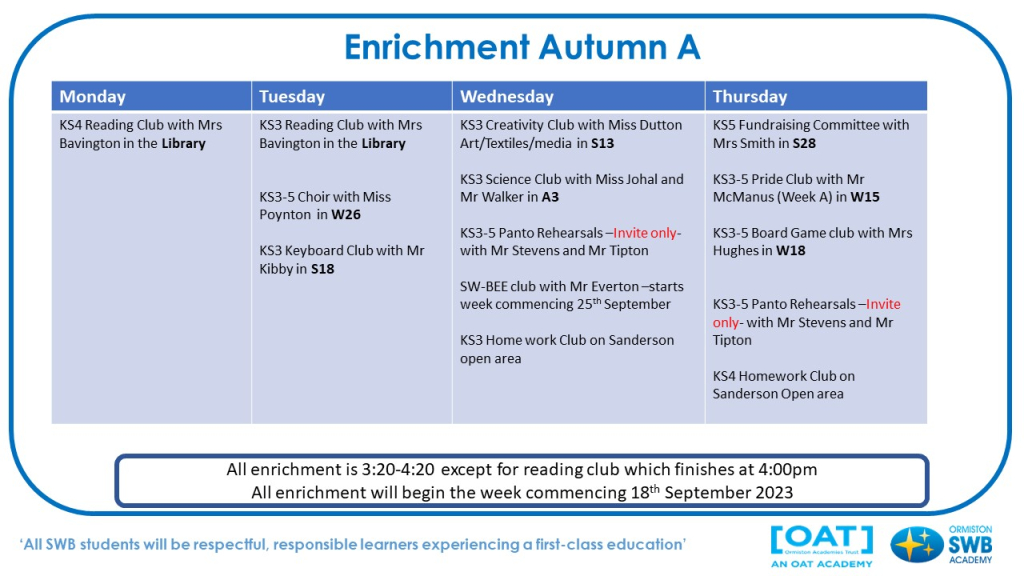 *** All after-school enrichment runs from 3:20-4:20 with the exception of Reading Club which runs till 4:00pm Monday and Tuesday ***
Current After School Activities
Please speak to directors of department regarding the latest enrichment activities. Below are details for some of the clubs currently running.
Videos from previous activities and clubs